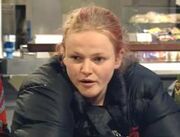 Twinkle (played by Maxine Peake), sometimes referred to as "Twink", was the youngest member of the canteen team and was well known for being late.
Pre-Canteen
Edit
Not much is known about Twinkle's childhood. It is known that she lived with her mother, who uses a wheelchair and that she had a friend called Tiffany. She was a secret football fanatic, able to recall in detail the career statistics of ex Manchester United player Nobby Styles.
In the Canteen
Edit
Twinkle was forever getting told off by Tony, her manager, for coming to work late and in her overalls. She normally responded disinterested but got on with her work regardless. Although Twinkle was forever being sarcastic, she considered her fellow co-workers as true friends, none more so than Bren, her deputy manager. Sometimes in a morning, Twinkle retold the events of the night before- normally including getting drunk and falling into skips.
Towards the end of her time working at the canteen, she showed interest in becoming a lap dancer, however, it is unknown as to whether she indeed became a lap dancer or not after receiving financial aid from Bren.
Twinkle's One Liners
Edit
Twinkle was possibly best-known for her one-liners. These were:
When Tony joked about her, she normally responded sarcastically with "Ha ha..." followed by something that she regards as funny. On one occassion, she was so tired that she didn't bother filling it in. She also said: "Ha ha, I'm nearly laughing."
On many occassions, if Tony told her to do some work, she responded with phrases such as, "Alright, keep your scrotum on". She was heard saying similar things to others.