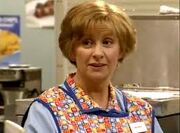 Brenda Furlong (played by Victoria Wood), known to most as "Bren", was born on 24th December 1957 to Petula Gordino and a father whose identity is unknown to both herself and her mother.
Childhood and Pre-Canteen Life
Edit
Bren's childhood was not a primarily happy one as she was raised in a care home, away from her mother. Bren never knew her father and her mother provided only the faintest details upon her death. She then was married to an alcoholic named Martin who scared her. Although they separated, they never actually divorced.
Personality
Edit
Bren was seen as the most sensible and caring worker of the team and happily listened to other's problems. Although she was happy to spare people's feelings, she was not scared to speak her mind to those who she thought needed to hear it. Bren was normally seen forgetting words and also being rather scatter-brained but all-in-all, she was a lovely personal and was extremely trustworthy. Bren also had an impressive knowledge of Cinema facts.
In the Canteen
Edit
Bren became the deputy manager in the canteen at HWD Components and her job entailed organising the workers and the events and ensuring that the other co-workers were generally happy and productive. Whilst at work, Bren secretly fell for her manager Tony but didn't say anything for fear of the feeling not being mutual.
After finding that the feeling was mutual, she and Tony tried to make a relationship work but found it difficult as many things got in the way, such as her mother forcibly taking Bren's plus one to the Christmas party and financial worries stopping them from moving to Scotland. After the death of Bren's mother, she found herself inheriting a lot of money, which she shared with her co-workers, enabling them to continue and succeed in their dreams. Most importantly, she and Tony managed to move to Scotland.